Rector Search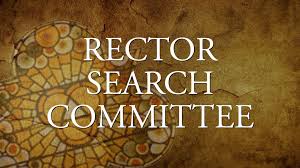 Anyone who has questions about the search process is welcome to contact committee members through the Parish Office at 703-941-2922 or stbarnabaschurch@outlook.com. The Search Committee meets every other Tuesday evening.

REPORT FROM THE SEARCH COMMITTEE - September 10, 2019
Our timeline is to receive applications until October 21, with the first interview process to continue to October 31. We will then narrow the field, and begin second interviews and possibly anonymous visits to the candidates' home parishes. If necessary, we will extend the time frame for receiving applications.
We are pleased that the process is moving forward. Many thanks to all of you who hold the committee and its work in your prayers. If you have questions about the process of the committee please do not hesitate to contact us. (See above.)
REPORT FROM THE SEARCH COMMITTEE - August 20, 2019
The St Barnabas' Community Ministry Portfolio has been completed by the Search Committee after a period of analyzing information from the Parish surveys, writing, rewriting, getting input from key committees and individuals, and review by the Vestry. It has now been forwarded to the Diocese for review, and then posting for Rector candidates to see and respond to. The Search Committee has now turned to the task of crafting interview questions for potential candidates.
Another task we are beginning to work on is to update the website to reflect the current status and activities of the parish. This is important for two reasons, both to give Rector candidates a better sense of who we are and what we do, and also to provide that same information for individuals who may be looking for a church home.
REPORT FROM THE SEARCH COMMITTEE - July 12, 2019
At the July 12 meeting, the Rector Search Committee discussed the status of the Community Ministry Profile, the primary document used in the recruitment of a new Rector. The profile was shared with the Vestry in June and is expected to be forwarded to the Diocese in the near term.
The Committee also considered and agreed to an evaluation form and process for the review of applications. The procedures to be used to evaluate top candidates following application review were also discussed. It was agreed that a first round of interviews would be conducted using an internet platform, and, following further evaluation, in-person interviews and visits would be conducted. Areas of focus for the interviews were also agreed to, based on the congregational surveys, and interview questions are planned to be reviewed at the next meeting.